Testimonials


This page contains testimonials and excerpts from patients that Dr. Hoffmann has treated. It is important to understand that although these cases were successful, it is by no means a promise to "cure" your condition. Please note that any text that appears here is presented with the permission of the author. If the author's name appears, that is with permission, also.

If you are a patient, or a friend or relative of a patient, and would like to offer a comment about your experience with Dr. Hoffmann, please feel free to summit a letter or email. Your testimonial can be anonymous if you wish. You may send it by mail or by email

We are aware that some testimonials are grammatically incorrect, but these are direct written quotes from patients.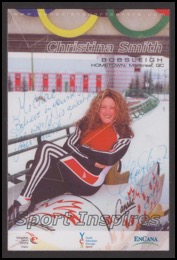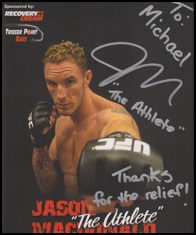 Click on thumbnails to enlarge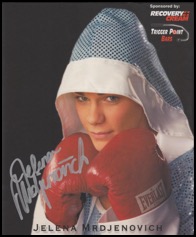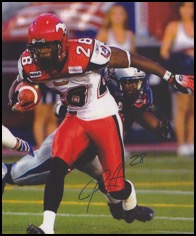 Click on thumbnails to enlarge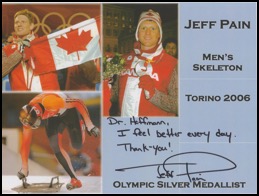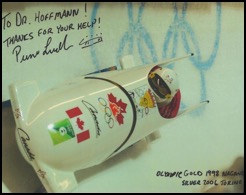 Click on thumbnails to enlarge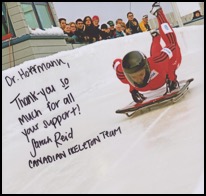 Click on thumbnail to enlarge

____________________



Anonymous
Calgary, Alberta

"Dear Dr. Hoffmann,
I want to thank you for all of your help. Life is so much nicer now; my days are brighter and happier. My visits to see you have been a pleasure and I have so enjoyed your positive and sunny disposition. Many, many thanks."


____________________


Brad Fehr
Ironman Triathleate
Edmonton, Alberta

"In April 2009 I was hit from behind on my road bike by a car while training for Ironman Arizona Triathlon. At the time I felt that I was not hurt that bad as I have fallen off the bike in the past. A few months later I realized that there was more going on with my pubic bone joint than I had thought. After not seeing any healing in this joint I decided to investigate into other treatment, when I came across an article on prolotherapy that was written by D.r Hoffmann. I decided to give this treatment a try but was a little bit nervous about having this shot as not very many people I talked to have heard about prolotherapy. Dr. Hoffmann outlined what the treatment would be, the amount of treatment I should need, and how to progress with my training during the process. I started September 2009. It took 4 treatments, one per month, and by February 2010 I was running pain free. The other alternative I had was to wait out the healing that could have taken anywhere from a year and a half to 2 years to fully recover. Proththearpy helped this process in 6 months and I could even run walk during the early injection treatments. If not for Dr. Hoffmann's help, I am convinced I would still not be running today."


____________________


John Gilles
Lacombe, Alberta

"I am a 60+ year old male that has been physically active most of my life including running, triathlons, and martial arts. One thing I have not tried was a full marathon so I decided that for my 60th birthday that I would run one. During the course of ramping up for the run I managed to trash both knees to the point that I could barely get out of a chair. I believed that my aspirations of doing a marathon was toast (and it was for my 60th bithday), however my daughter suggested that I check with this guy named Dr. Michael Hoffmann in Calgary. Since my wife and I have our health care needs taken care of by a Naturophath already, it was not that big a stretch to consider talking with Michael. Our first consultation led immediately into him performing the injections and they continued now at 6 week intervals for almost a year. Bottom line; I am now preparing for a marathon for this fall, approximately 1 year after beginning prolotherapy and this time I will achieve my goal thanks to Dr. Hoffmann. I firmly believe that this goal has only been attainable thanks to Dr. Hoffmann and the Prolotherapy. I would recommend this therapy to anyone experiencing acute and chronic pain. Thank you."


____________________


E. Vanden Born
Edmonton, Alberta

"I am writing to highly recommend the services of Dr. Michael Hoffmann. In August of 1996 I injured my back in a water-skiing accident. It was quite a painful injury and it ruined my 2 week beach holiday in Kelowna, British Columbia, as I was more or less unable to move. This was quite upsetting, but little did I know what lay in store for me. After seeing several Doctors, Chiropractors, Physiotherapists and many other health practitioners I was unable to receive a diagnosis. Nothing was broken, no discs were out, no muscles torn, however I was still in pain. After weekly massages for about 3 months the pain lessened, but it was still there. Over the next 4 years my back pain and troubles were up and down. I was an avid runner and this was becoming increasingly difficult. I used to take pain killers about 30 minutes before a run in order to enable myself to run (in hindsight clearly not a wise choice of action!).

For the next 4 years (2000-2004) the pain became constant, and moved into my glutes as well as my back, I used to roll around on tennis balls, baseballs, rolling pins, anything, to try to release those muscles. In 2004 I began to have trouble with my right hamstring and it was at this point that I had to give up running all together. Things were difficult, and I was not happy about the change in my lifestyle, but I was able to work and walk just fine. In 2007 the situation worsened and I got to a point where I was unable to walk. I was taking 8-12 Tylenol 3 a day, just to get through the day. My leg was on fire and my hamstring was so seized up that all I could do was limp. During all of this time I was having IMS (intra-muscular stimulation), regular massages, Rolfing sessions, yoga sessions, traditional physio-therapy and chiropractic visits. I also tried acupuncture to no avail. All of these treatments worked for a day or two, but shortly thereafter the pain would return and the muscles would seize up. (I do continue with some of these treatments now that Prolotherapy has fixed the root-cause of my pain).

In January of 2008 I was becoming quite desperate and would spend hours on the internet looking for alternative treatments. Fortunately I came across Prolotherapy. In all honesty I would have tried anything, and pretty much had, so I was game to try Prolo too. Again, I spent many hours trying to find a Dr. who was trained with Prolotherapy, and I feel very blessed to have come across Dr. Hoffmann.

In our consultation meeting I must have asked him about 40 questions – such as: "Has anyone died from Prolo?" and "Is there a chance I might be paralyzed by Prolotherapy?" etc.. I was willing to try Prolotherapy, but wanted to do so with an informed approach. Dr. Hoffmann was exceedingly patient and kind. He explained the process to me and listened to my many concerns. I agreed to try it. I will never forget that initial visit. After struggling with the pain for so long, I did not even realize how bad my back was – I came to see him for my leg, which, after assessing me, Dr. Hoffmann explained was a result of my injured back. The reason I remember that visit so well is that it was a truly emotional experience for me. Not only was Dr. Hoffmann beginning the healing process of my back and leg, but he began to give me hope as well.

I live in Edmonton and Dr. Hoffmann lives in and practices out of Calgary. I made the drive quite willingly as he was able to do what no-one else had been able to do. By the time I saw him I was in quite rough shape and ended up being off of work for 2 months. I work as a teacher and not being able to move, and requiring so much pain medication made it impossible for me teach. I stayed in Calgary and saw Dr. Hoffmann a few times a week for 3 weeks. It would not be enough to say that he changed my life and has given my life back to me.

I cannot say enough good things about Prolotherapy and Dr. Hoffmann. In the past 12 years I have seen numerous health practitioners and he is one of the best. His patience with me was truly amazing, as I would certainly describe myself as a high maintenance patient. I would come in with lists of ideas, and "wish lists" of what I would like him to do. I was pretty much a nut-case, but I was desperate and in pain. He spent a great deal of time treating me, listening to me, talking with me and teaching me. He also displayed great compassion as he saw how low my spirits were.

I am now off all of my pain medication. As well, I am now walking without pain and without limping and I am slowly trying to get fit again! It is exciting returning to a lifestyle that I loved and that I left behind, and I am indebted to Dr. Hoffmann for all he has done for me.

If you are reading this and think that Prolotherapy might be the answer for you, I urge you to try it. The healing I have received is something that anyone in pain should be able to experience. Prolotherapy is not the answer for all of life's ills, but it has changed my life forever, and Dr. Hoffmann is a gifted Dr. who truly cares for his patients and will do whatever he can to help them."


____________________


Anonymous
Calgary, Alberta

"Dear Dr. Hoffmann,
Just a short note to thank you once again for treating my tendonitis earlier this year! Not a week goes by without me remembering you and the very successful treatment you gave me, when everything else I had tried had failed. I am 100% pain free since you last treated me and after suffering for so long with the discomfort I had, it makes it easy to remember when someone got it right and hit a home run! Thanks so much for helping me heal my 'broken wing' and enjoying life without icepacks and eating tylenol like it was candy!"


____________________


Dr. Timothy W. Tort, D.C.
Calgary, Alberta

"As a chiropractor in practice since 1985, there have been many occasions when I have encountered patients with problems that don't respond as well as hoped. This is most often due to chronic muscle problems which make getting rid of the vertebral subluxations nearly impossible. I too have personally experienced such problems. I heard about Dr. Michael Hoffmann and his neural therapy treatments. Before sending over any patients to Dr. Hoffmann I took it upon myself to have him treat my chronic muscle problems. I was indeed impressed with the efficacy of the treatment and as a result I have referred many of my chronic patients to Dr. Hoffmann. Now I find that not only do adjustments to my spine hold better but that of my patients. This is an excellent adjunctive therapy to chiropractic care for chronic musculoskeletal problems."


____________________


Shannon Harden, Registered Massage Therapist
Calgary, Alberta

"Almost a year ago I woke up one morning with extreme pain in my arms, I tried many types of therapies to try and get rid of this pain, the inflammation made my arms double the size and I couldn't even hold a cup in my hand, let alone continue working. I have been a massage therapist for the past 2 years which led to a repetitive strain injury and trigger points in my arms. I had seeked relief for the pain so that I could continue to work which led me to docs who gave me pills, had massage, and chiropractic treatments. Unfortunately none of these mentioned treatments were working for me and it seemed things were getting worse. I began talking with Dr. Michael Hoffmann, who told me to give prolotherapy/trigger point injections a shot. It took one treatment and I immediately began to feel better, I went back to work shortly after. I have continued to seek Dr. Michael's help as I put my body through the ringer. I know that he alone has made me able to last in my career. As a health care professional I have and do recommend Dr. Michael Hoffmann's treatments as he has the heart and knowledge to help you through your ailments."


____________________


Ms. P. Henson
Calgary, Alberta

"Following a spring bus trip to New York, I experienced serious knee pain and was only able to walk with difficulty. I could not exercise or bend my knee. After two months of suffering, I agreed to try prolotherapy with some trepidation as I so not like needles. I noticed reduced pain within two days of the first treatment. After three treatments, my knee was pain-free and I was back to my normal active lifestyle including regular exercise. It was amazing. Thank you, Dr. Hoffmann."


____________________


Ali
Calgary, Alberta

"Over 10 years ago I partially tore two ligaments of my right knee. This injury caused me to have trouble in all areas of my life. A simple task such as getting into or out of a car would cause discomfort. As a side effect I also developed plantar fasciitis in my left foot. I had received physiotherapy for my knee as well as podiatrist prescribed orthotics and exercises. These treatments brought partial relief for a short period of time. I spoke with Dr. Hoffmann on several occasions in regard to my concerns and he introduced me to prolotherapy and it's benefits. After only four treatments on my foot and three treatments on my knee I can say that my knee is much more stable enabling me to pursue athletics which I haven't been able to do for years. My foot is now virtually pain free. I highly recommend this therapy for people who are seeking natural long term relief."


____________________


Helen Molnar, 72 years old
Calgary, Alberta

"I came and saw Dr. Hoffmann, after a friend of mine referred me to see him. I had dull achy pain in my neck for a few years which massage helped but it always kept coming back. I also had shooting pains down my legs which would make me lose my balance every once in a while. Dr. Hoffmann gave me trigger point injections/prolotherapy on my neck and low back. After the 1st treatment I was 40% better and it only took two treatments before the pains disappeared. Thank you."


____________________

Check back soon as more testimonials will be added